Writing content for the web automatically is finally within everyone's reach
Our Content Spinning tool was created in 2006 by Nicolas Sotton, automation expert and SEO consultant, he designed the first version of the tool in order to duplicate content without "duplicate content".
To announce improvements to the functions of the tool and report bugs or collect opinions and suggestions for improvements, it has set up a free forum dedicated to the #ContentSpinning project.
The starting idea is simple, to do SEO you are always asked for content without duplicate content. So if you have a text and you replace expressions or words in each sentence, it will ultimately be different from the original text. But it may still contain Duplicate Content if you don't replace all the text. To remove duplicate content, simply write the same thing but with different words. It makes sense and it's simple to do, but very time-consuming and often boring.
Nicolas therefore had the idea of ​​recording sentences, expressions and words named "root" with their equivalents named "variations". Then he designed a Web interface that allows you to copy and paste text so that the computer automatically replaces the roots with variations.
Example of text formatted in Content Spinning:





The Web interface allows you to fill in a text, split it into several paragraphs and choose a synonym dictionary to replace. You have the choice between a French or English dictionary or Special content for adults. It also allows other adjustments such as case sensitivity and the type of root to use (root consisting of 1 word or more). But above all, by using the interface, your projects are saved in your online account and you can find them easily with simple internet access.
Screenshot of the Polymorph form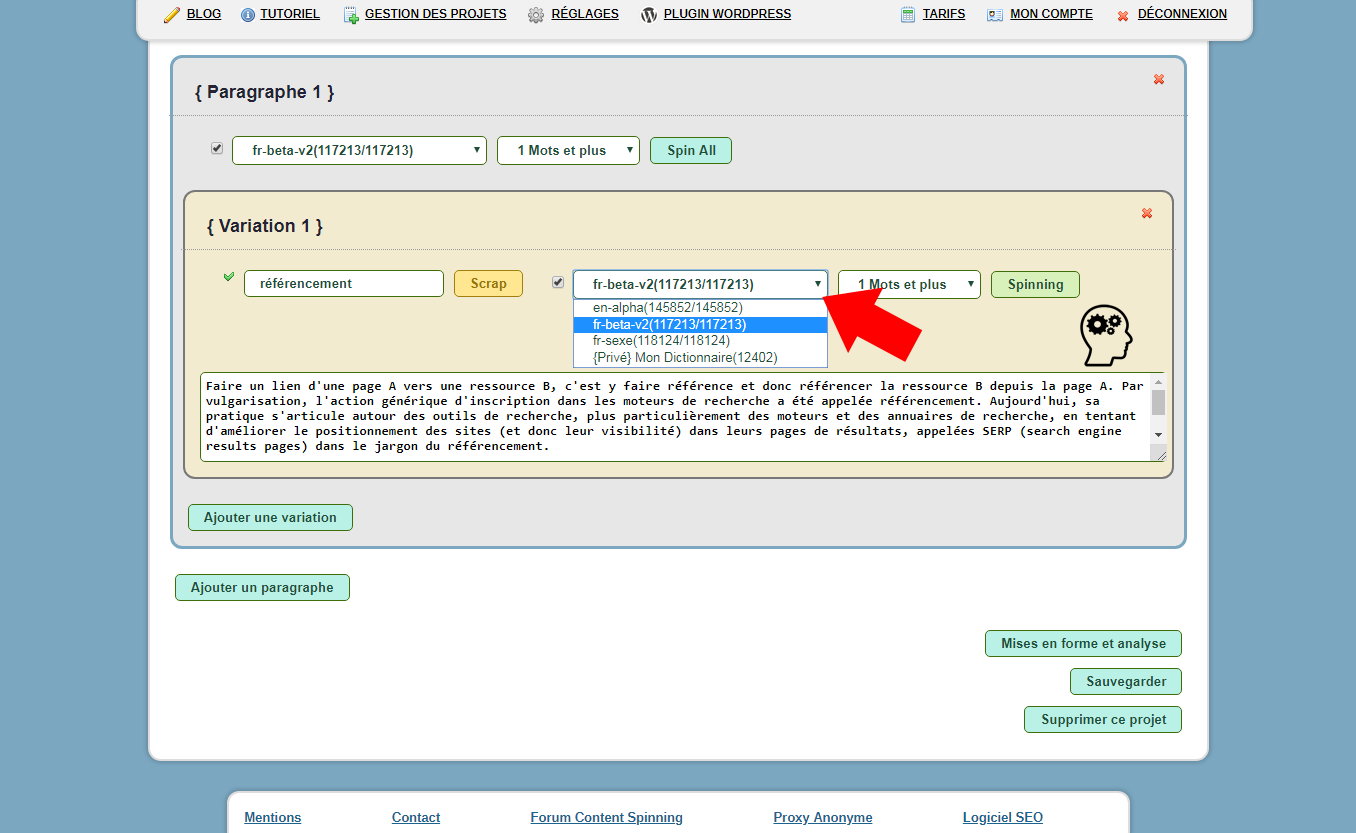 Screenshot of machine learning form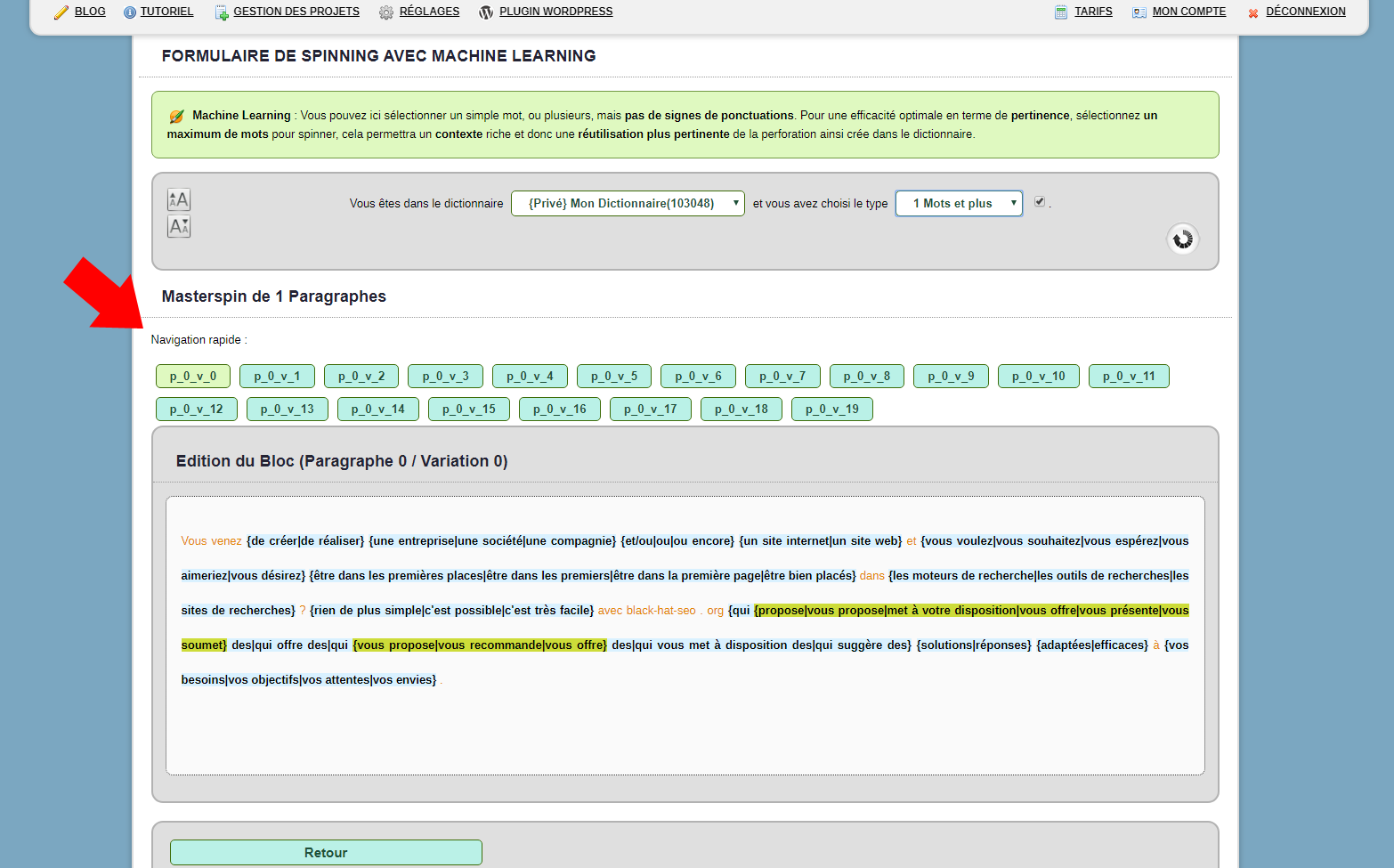 Our methodology is simple and behind each technical term hides a process that is very easy to understand.
The Polymorph Form allows you to Scrape or send content broken up into paragraphs, so each paragraph can have variations. (Polymorph = Many Forms).
Machine Learning allows you to teach the machine to be more relevant to best meet your expectations. We have simplified this process as much as possible to allow you to adjust the lexicon and knowledge of the machine.
The Layout & Analysis allows you to add media and layout tags in your Master Spins to vary your spuns even more before analyzing them to extract the most relevant.

Content-Spinning.fr is the ideal solution for your directory submission content, your press releases and/or to feed your PBN. The idea is to preserve the meaning of your content while changing the semantic form to eliminate duplicate content from the content you publish on the internet.
Content-spinning.fr is the key partner for your content marketing strategy. Our professional web writers specialize in creating unique, relevant and search engine optimized web content. Whether you need product sheets for your e-commerce, articles for your blog or content for your website page, our editorial services offer you quality content, aligned with each editorial line and your marketing strategy.
Natural referencing is at the heart of our expertise. Our writers are trained in SEO writing techniques, including careful keyword selection, tag optimization, structuring content for better search engine indexing, and taking into account the long tail in content. written. We understand the importance of positioning your site on the first page of search results, and our content is designed to maximize your visibility and your digital notoriety.
Editorial quality is a priority for us. We take care to write original content, free of plagiarism or duplicate content. We offer a careful proofreading of each text to eliminate mistakes and guarantee an impeccable editorial style. In addition, our text editors integrate subtitles, internal links and respect the rules of the inverted pyramid to improve the user experience and the readability of the content.
The content-spinning.fr is not only an editorial service, but a real editorial strategy. We work with you to understand your target audience, content marketing goals, and brand positioning. We create content that reflects your image and is in line with your values. Whether you are a freelance web editor looking to enrich your content, a web editor looking for writing techniques or an e-commerce company wanting to improve its SEO, we have the solutions for you.
With our expertise in inbound marketing, we help retain your prospects and convert your visitors into customers. We use netlinking, backlinks, and other SEO strategies to increase your visibility on the web. Our content creation services are suitable for all types of websites, from blogging to e-commerce.
Content-spinning.fr is also a guide for web editors. We'll offer writing training, advice on how to write a web article, and tips for optimizing content for search engines. We put at your disposal a team of freelance web writers, freelance writers, and freelance writers, all specialized in different niches, to meet all your content needs.
Content-spinning.fr is therefore your partner for a successful content strategy. By providing high-quality content that is relevant to your audience, optimized for search engines and in line with your editorial line, we help you develop your digital presence and achieve your digital marketing objectives. With Content-spinning.fr, you are guaranteed content that meets your needs and meets the highest quality criteria.